That's how long we've been using it and now we're updating it to version 10.
"Here is your test server!" Pisti messaged Tünde on a summer evening in 2013, and that's when the memoQ era of VILLAM Language Services really started. Within a few days, we occupied our south-facing, spacious, ready-to-move-in server space and started settling in. Of course, we had used Translator Pro licences before, but it wasn't the same as having our own SERVER; it took seven years for us to level up. Tünde, while freelancing in 2006, got a job where reporting memoQ software bugs was part of the translation work. Back then, there were only a few people working behind the scenes (the founders of Kilgray); they were the ones paying attention to every little feedback and incorporating it.
Photo: Tünde Gál-Berey in the VILLAM office, 2022
At VILLAM Language Services, we will soon be upgrading our memoQ TMS version from 9 to 10. Before taking the leap, we wanted to know if this would cause any problems for our partners, if the new memoQ TMS would be compatible with the Translator Pro licences used by our freelancers. Therefore, we sent out a questionnaire to the translators working with us to assess what kind of technical support we would need to provide so that everything could run smoothly after the upgrade.
Over 71% of the 254 respondents stated that they regularly use their own memoQ and are well-versed in it. The remaining 29% were divided into three almost identical smaller parts. The first third stated that they do not regularly use any CAT tools. The second third uses Trados. The third subgroup is divided among the many lesser-known computer-assisted translation technologies, which include both the genre's founding software as well as the most modern ones.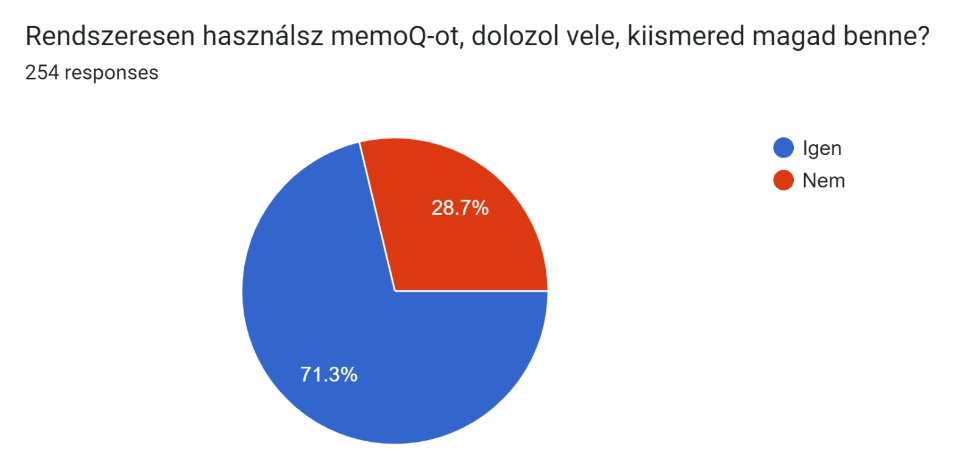 Figure: Snapshot of VILLAM's Hungarian questionnaire summary on 26/07/2023
We asked memoQ translators if they had their own licence or needed a mobile licence for their work, and 72% told us that they have their own software. We already knew from the memoQ website that they update their products so considerately that the memoQ TMS and the Translator Pro software remain compatible with one larger and one smaller version number. For example, version 9 is compatible with 8 and 10. Therefore, we also asked translators what version they use. MemoQ released Translator Pro version 10 on 1 March 2023, and 100 days later, when we closed the questionnaire, 29% of users had already updated to this version. However, the majority, 58%, still uses version 9, which fortunately will not hinder our collaboration. Versions 7 and 8 are used by very few people now, perhaps only those who have either cast their vote for another CAT software or who have secured a steady clientele and can serve them with the older software.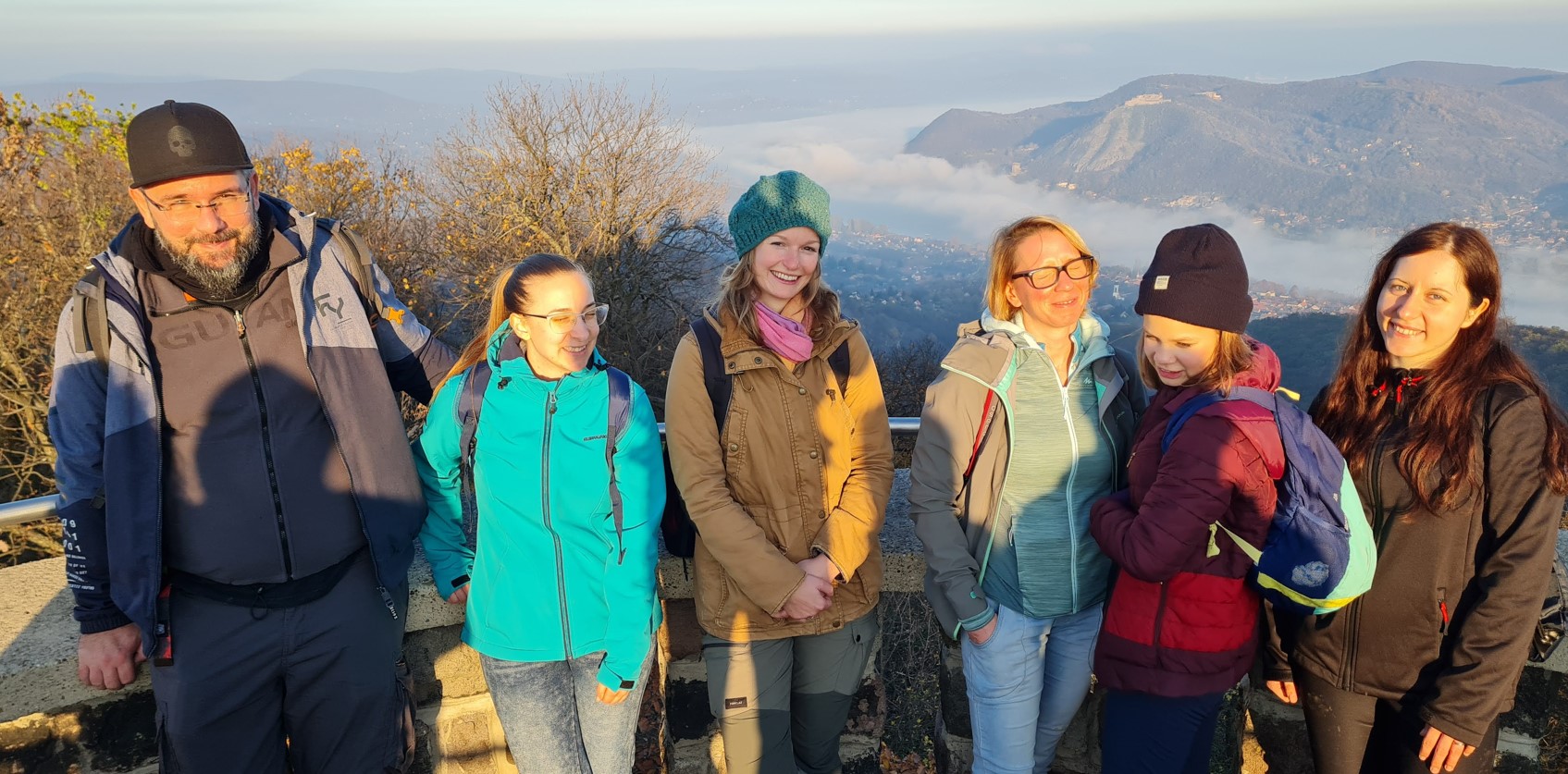 Photo: The VILLAM team climbed the mountain 'Hegyes-tető' in the winter of 2022
If someone uses an older memoQ, they can also update to the latest version if they purchase an SMA, i.e. if they conclude a Service and Maintenance Agreement with the software manufacturer. Currently, 34% of VILLAM's respondents have a valid SMA, so for them, acquiring the latest versions is not a problem. An additional 16% plan to renew their SMAs within six months. The rest are not considering this (anymore), they do not plan to upgrade in the short term. But then again, with a relatively recent memoQ, this isn't an issue.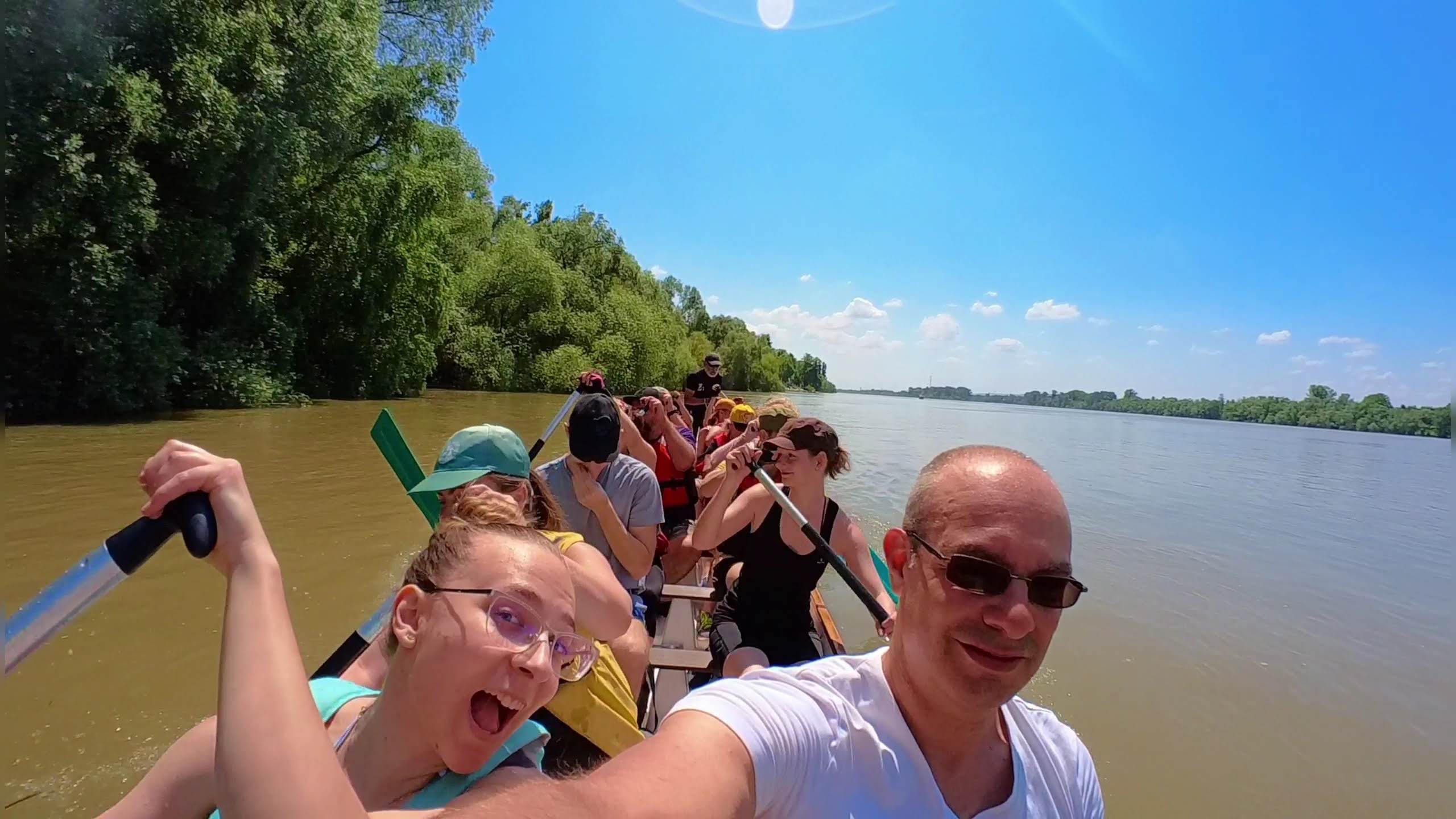 Photo: The VILLAM team dragon boating in the Danube Bend in the spring of 2023
We would like to thank the translators who filled out VILLAM's questionnaire for their help, which aids us in our preparation. And of course, thanks to memoQ (and especially to Pisti) for being there for us and creating the technology that has been part of our everyday lives for exactly ten years now!