July 2023 marked the culmination of this year's exciting internship programme at VILLAM Language Services. Across four diverse stages, seven eager-to-learn translators and interpreters joined our team, making each encounter a one-of-a-kind experience.
Everybody is in
Those familiar with us understand our deep commitment to providing hands-on opportunities to university students and translation and interpreting professionals starting out their careers. For over a decade, we've been hosting annual internships, warmly welcoming new talents. Our past initiatives include the TranszFészek programme for startups, a month-long intensive training for beginner translators, and a shared office environment alongside seasoned translators. We thrive on these endeavors, appreciating the chance to reconnect with the vibrant energy of academia. Our team members enthusiastically contribute to the programme, with the lead mentor coordinating workflows, and many providing insightful mini-presentations and running engaging workshops. Our Project Management team assigns real tasks to the interns, while the Quality Assurance team reviews their outputs, fostering a comprehensive feedback loop. Everyone is actively involved, ensuring a robust learning experience.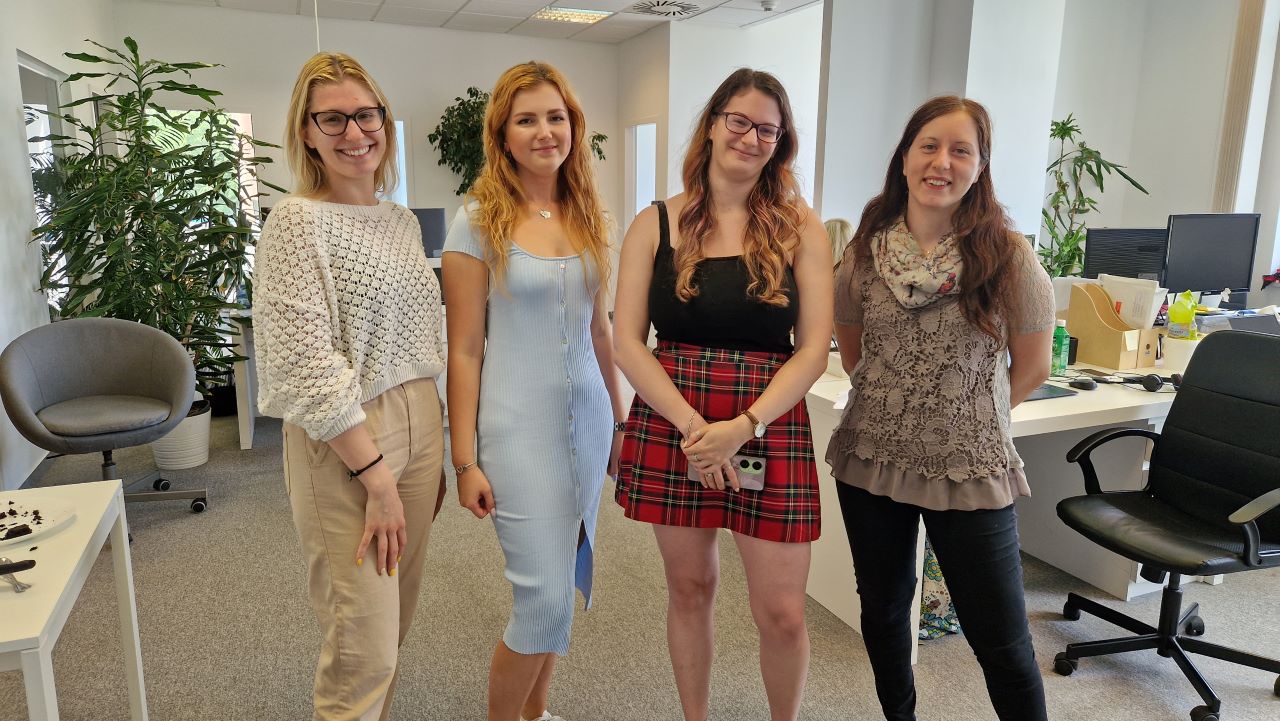 The first remote intern
The first intern of the year joined us remotely in January. They studied translation in Budapest, then moved to Spain to start a family and build a career. Eventually, they decided to revisit their roots in translation. Their skills had become a little rusty, but they were relentless in refreshing their knowledge until it was up to date. We were there to support them in this transformative journey over several months.
First round of DTP interns
In March, we welcomed two linguists in our office, eager to acquire editorial skills for the second internship phase of VILLAM. Our Desktop Publishing team guided them, introducing a unique intersection between desktop publishing and translation technology. Within a fortnight, they not only mastered the techniques but also participated in one of VILLAM's most thrilling editing assignments, offering unwavering support to us.
Career-changing intern
VILLAM's third round of internship was tailored for a solitary remote intern we acquainted ourselves with in April. As an experienced marketing professional, they sought to acquire industry-related experience before switching careers. We worked out a schedule that fit their availability and committed to providing detailed feedback on their work. This mutual knowledge transfer led to a rewarding outcome – we continue to work together under market conditions as beloved colleagues.
Translation Master's Interns
Finally, the much-anticipated BIG SUMMER INTERNSHIP rolled around, when our team welcomed three students (see on the picture above) doing their linguistics and translation Master's. They immersed themselves in our work environment for two weeks, interacting with everyone, gaining insights into our processes, and participating in dynamic translation projects. Our internal linguists oversaw their work, with daily sessions allowing for valuable feedback from the team. Their contributions were significant, they learned a lot, and we're confident they enjoyed their time at VILLAM. We relished this opportunity to nurture emerging talents.
To be continued
While we've wrapped up this year's internships, we eagerly look forward to rebooting the programme next year. Our aim is to keep enhancing its reach and impact, delivering a truly valuable experience. We owe much to the translator and interpreter profession and are keen to give back to the novices in the field. Not out of obligation but because it genuinely brings us joy!